Back
Etere at CommuniCast Myanmar 2016
30 November 2016
Etere will be at CommuniCast Myanmar 2016 (Booth G6) which will be held at the Novotel Yangon Max from 6th - 8th December 2016. Book an appointment with us today for a live demo of Etere Systems with full support for the Burmese alphabet.
Etere is pleased to announce our participation at Booth G6, Communicast Myanmar 2016 which will be held at the Novotel Yangon Max from 6-8th December.

Date: 6th-8th December 2016| Tue - Thurs | 10:00 - 18:00 Hours
Venue: Novotel Yangon Max
Booth: G6
For Floor Plan, please reference the attachment in this press

During the show, Etere will be providing in-depth demonstrations of software solutions including Media Asset Management, Airsales, HSM, Playout with ETX and more. Etere's expansive suite of enterprise-class software solutions are used by media enterprises all around the world to build flexible, scalable, fully tapeless and cost-effective systems that deliver the renowned consistency and quality that our customers have come to expect. Etere systems are also able to support and display the Burmese alphabet.


Etere Media Asset Management (MAM)
Etere MAM is a flexible, modular and effective software solution that enables broadcasters from all around the world to optimize the value of their media assets, bring content to the audience faster while ensuring reliability at every step of the workflow. Etere MAM is also designed with a centralized management system for a streamlined digital workflow and full control over the end-to-end workflow of a company. Book an appointment with us at CommuniCast 2016 to experience the full benefits that Etere MAM can bring to your company.

Etere Airsales
At CommuniCast 2016, Etere will demonstrate the multi-functional capabilities of Etere Airsales which is designed to deliver a powerful, flexible and reliable solution for a complete management of your advertising lifecycle. Etere Airsales is an integrated solution for traffic, accounting and all sales management-related operations. It gives you real-time control and visibility of inventory information to optimise advertising revenues and profitability. Etere Airsales is completely scalable to suit companies of all sizes from a single station setup to large corporations.

Etere HSM
Reduce reliance on complex, expensive and high maintenance systems with Etere HSM which is a 100% software-only solution that manages all archives in a single integrated environment, supporting a mix of proprietary and/or industry file systems under a unified cockpit that provides all information on archives located on-site and across multiple geographic locations.

Playout with Etere ETX
Be empowered with Etere ETX, a tightly integrated and cost-efficient video management system that is power-packed with a host of capabilities including SDI output, multiple layers of graphics, 3D graphics animations as well as flash graphics support. It is a complete channel-in-a-box with full IP in and out features combined with one of the fastest file transfer capability in the market. The 100% software solution is also able to receive NDI source stream and live source objects.

Please send us an email if you'd like to arrange a meeting at this event: info@etere.com


For more information, visit NewTek NDI. #NDIcentral

ccm2016_floorplan.pdf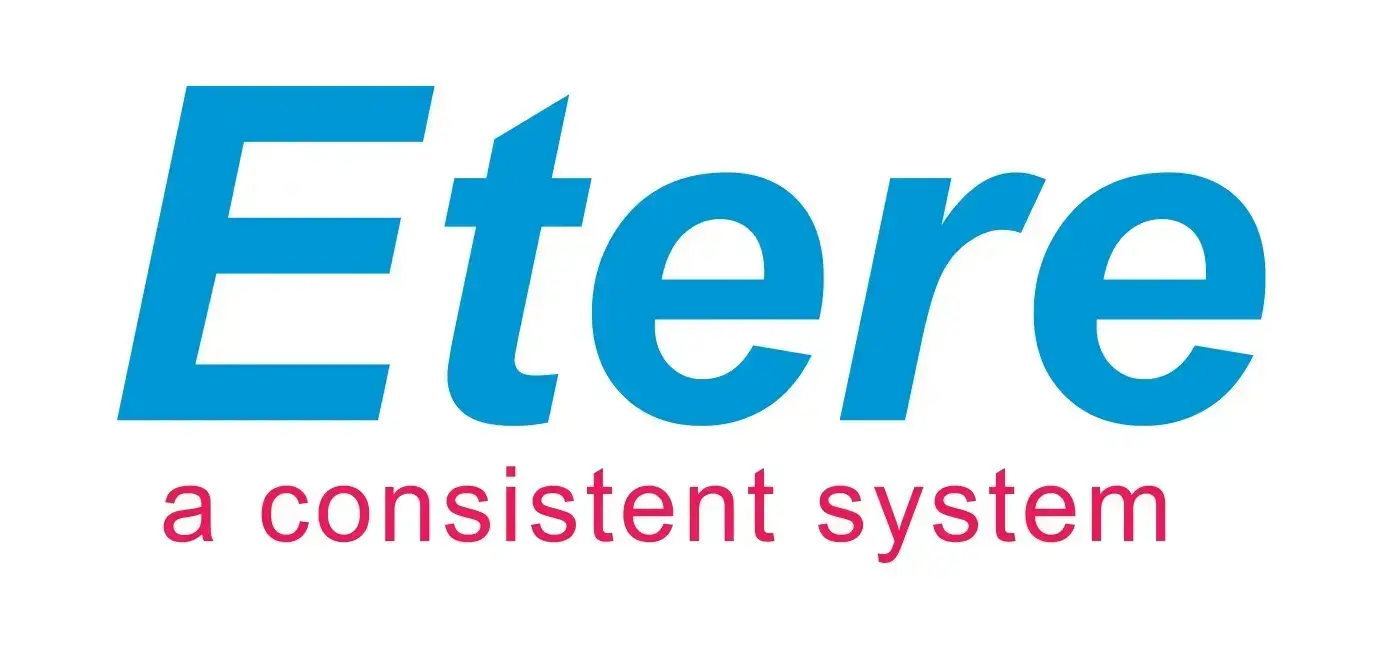 Founded in 1987, Etere is amongst the worldwide leaders in Media Asset Management and channel in a box software solutions for broadcasters and media companies. Etere's unique MERP software-only solution is used by many of the world's leading Media Enterprises to power their digital assets. Its modular solutions including Airsales, Ad Insertion, playout, HSM archive, TV automation and Censorship are built with an innovative architecture, offering the best flexibility and reliability in the market. Etere is headquartered in Singapore, with a dedicated 24/7 support centre in Italy.
Е-mail:
info@etere.com
■
Company Profile
■
Our History and Achievements Since 1987
■
Our Team
Communicast Myanmar 2016
is the third edition of the business and trade show that brings together professionals from the communications, mobile, enterprise and satellite sectors. The event also comprises the Myanmar Satellite Forum and the International Myanmar ICT exhibition. CommuniCast Myanmar 2016 will be held from 15-17 November 2016 in Yangon and is expected to continue to grow as the ICT industry draws in new investments from all around the world. CommuniCast Myanmar is a proven business exchange platform for companies who are interested to expand into one of the world's most promising ICT markets. The third CommuniCast Myanmar 2016 show is expected to incorporate developments in the industry including the expected approval of new broadcasting laws. CommuniCast Myanmar provides an ideal business exchange platform to interact with key decision makers in all professional B2B environments.